In Conversation With: hikma
We chat to Shereen & Mahdiah, founders of hikma, a brand born through desire to reintroduce personal and collective rituals into their daily lives.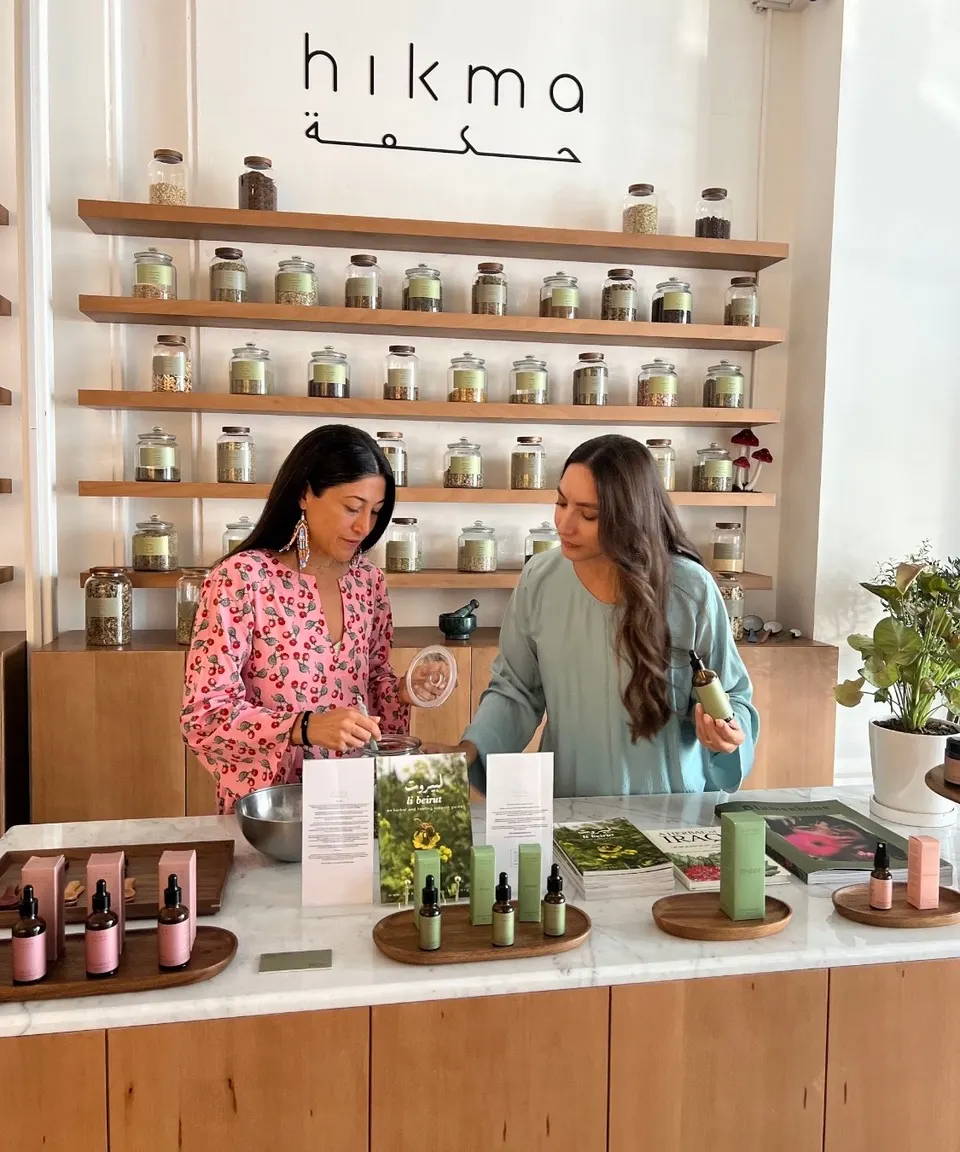 Could you tell us about what a being a herbalist means?
Being a herbalist means continuous learning and training on the therapeutic application of plants for vitality and health, it means being able to identify plants as well as deeply understanding their actions and energetics, a herbalist is in a constant relationship with plants, whether that is medicine making, growing, or prescribing plant medicines to patients. Our training includes botany, phytochemistry, therapeutics, pathologies, biomedicine and pharmacology. Herbalists have a responsibility to treat the whole person, not the symptoms and do their utmost best to uncover the root cause of any ailment whilst knowing when it is absolutely necessary to refer to a medical doctor. We always strive to work on prevention when it comes to disease and aim to bring our patients to a place of vitality and abundant life force energy.


When and how did your journey as herbalists begin?
Both of our journeys began many years ago with a longing for connection to our roots and to nature, coupled with a love for being of service and wanting to help people struggling to get themselves free of disease. We have both individually gone through our own rigorous training over the last 15 years.


Have you encountered any challenges along the way? And how did you overcome these?
Shereen: Personally, my challenge has been balancing my path as a herbalist with motherhood, though often the two are intertwined. I call on the wonderful supportive community around me in Dubai from family to friends and that has really allowed me to do both. I try as much as possible to bring my 2 boys into the world of hikma and herbs, I teach them as much as I can, treat them with herbs when necessary and they often are my taste testers for formulas and infusions!

Mahdiah: In terms of challenge, I would say that it's been to work towards building a business (and more generally a life) in a country where my family isn't. We are so grateful to have the opportunity to build hikma in the UAE, and I really wouldn't want to do it any other way. However, it has sometimes been hard without the support of family, although they are of course very supportive from afar. That make me even more thankful for the friends that have become like family here.


Do you do any specific wellness rituals which empower your spirit and your practice?
Our rituals are deeply tied to the plants, making medicines is a ritual for us, going out in nature and observing plants in their habitats is a ritual that grounds us and nourishes our spirits. Simply smelling the herbs and meditating on their smell is a ritual.


Can you tell us about your favourite kind of plants you work with?

They are always changing and very specific to who we are treating, or which product we are developing, the most recent ones have been date palm pollen, nettle, rose, cardamom, peppermint, elecampane root and passionflower.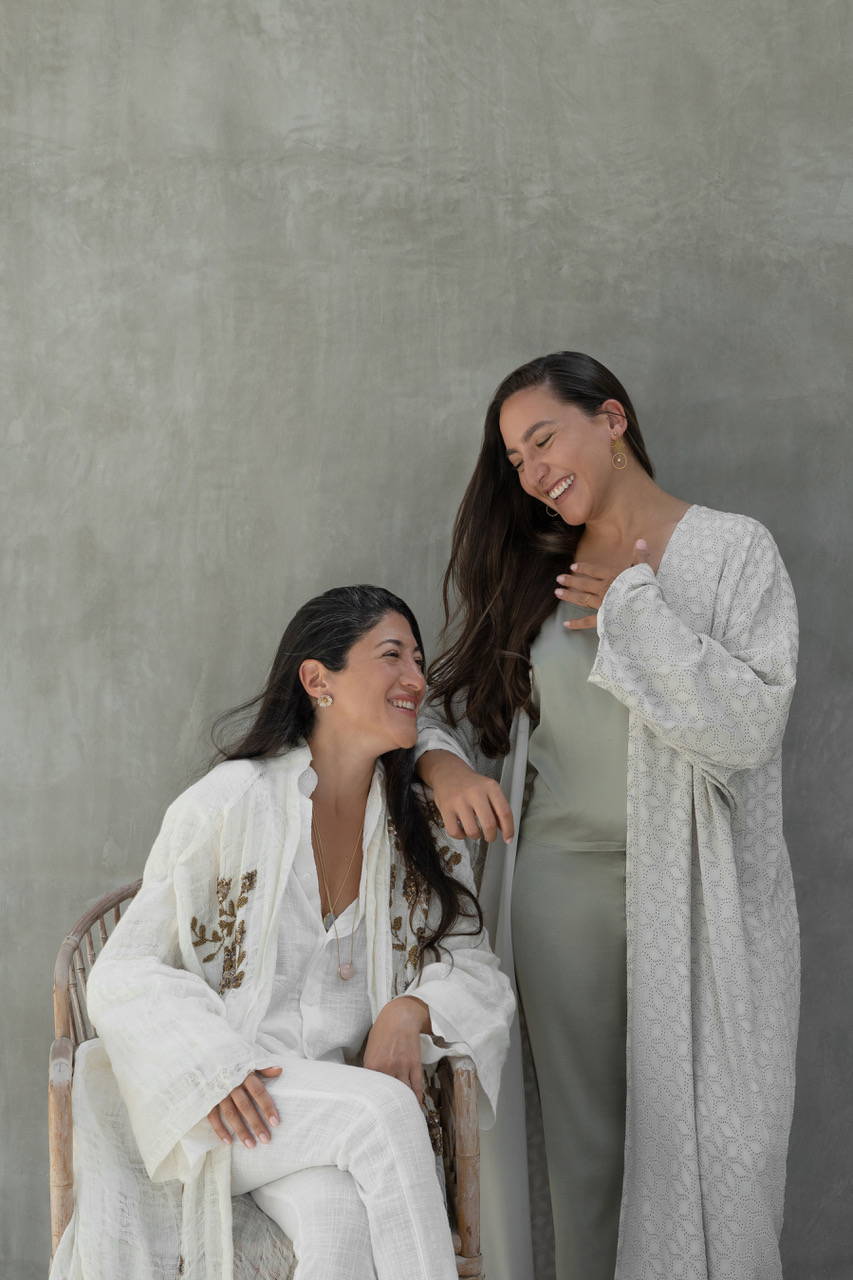 "I would say all of our work is rooted in ancestral practice, herbal medicine is an ancestral practice that has been validated in modern times by scientific research, each plant we work with is backed by thousands of years of traditional use worldwide with significant history in the Arab region dating back to the times of Ibn Sina (980-1037CE)."

What are some of your favourite ancestral practices you have used throughout your work?

I would say all of our work is rooted in ancestral practice, herbal medicine is an ancestral practice that has been validated in modern times by scientific research, each plant we work with is backed by thousands of years of traditional use worldwide with significant history in the Arab region dating back to the times of Ibn Sina (980-1037CE).


Which authors, books or creatives have influenced your practice? Do you have any favourite quotes that you'd like to share?

There are just so many it's hard to condense here.. The ones we reference on a daily basis, who's research is deeply valuable to the field of herbal medicine, the ones that come to mind are Aref Abu Rabia, Shahina Ghazanfar, David Hoffman, Matthew Wood, Rosemary Gladstar, Michael Tierra, Stephen Buhner, Richard Schultes, and Michael Pollan.

Quotes:

"A large part of our wellbeing will always depend on the intimacy we have with ourselves (whole selves) and the green world outside our door" - Nancy Phillips

"It is my belief that plants have manifested as one of this plants foremost expressions of love. The clear vibration of love that radiates from plants is one of the fullest expressions of unconditional love that I witness, harvesting is a way of calling forth and receiving the love." - Michael Philips

"Knowing that you love the Earth changes you, activates you to defend and protect and celebrate, but when you feel that the Earth loves you in return, that feeling transforms the relationship from a one-way street into a sacred bond" - Robin Wall Kimmerer


For those who are unfamiliar with hikma, what would you describe as some primary benefits from using your products, and what would you recommend for people wanting to learn more?

Our products are pure botanicals, organic, ethically and sustainably sourced, contain absolutely no nasties and are here to bring people to a state of balance and vitality, we offer solutions to common physical and mental health issues through traditional preparations of herbal medicine (examples of some are anxiety, hormonal issues, immunity and digestion). This could be in the form of powders, tinctures (plant extracts taken by mouth), oils for the skin or dried herb blends to drink.
Each of our products are carefully formulated to create a certain synergy. You can learn more about our products and their uses on our website.


What are your must have wellness products?

Hikma "Focus" powder has become an integrated part of our daily routine, it is a blend of medicinal mushrooms, astragalus, cardamom and cinnamon and supports cognitive function, immunity and gut health. The soothing and anti-inflammatory hikma "Tender" body oil is part of both of our daily skincare routines, calendula infused almond oil with a touch of orange blossom. And last but not least, a daily dose of lots of fruits, greens, pure water and sunshine!


What names do you like to go by?

What are your ethnicities?

Shereen - Iraqi Kurd
Mahdiah - North African & Canadian
 

Where are you living in the world?

What are your star-sign's?

Shereen – Taurus
Mahdiah – Leo  


Favourite genres of music right now?

I think we can both say we have a love for amapiano (zulu for "the pianos") music right now… a subgenre that surfaced in South Africa in the mid 2010s.  


Favourite time of day? - Sunrise, sunset, or midnight?

We love the sunrise, when the dewdrops are blessing the flowers, and a couple of hours after that when the sun is high up, the dew has dried off, and medicine is ready to harvest, with deep gratitude.  


Can you tell us about something that you achieved in 2022/2023 and how this has inspired you, moving into the future?

The growth and development of hikma, the sisterhood that has come of that, the ability to overcome all our challenges together and the warmth with which people have received our offerings. This is a huge inspiration to us to keep growing and develop more exciting projects in the future.

Stay up to date with the latest news at Noor's World